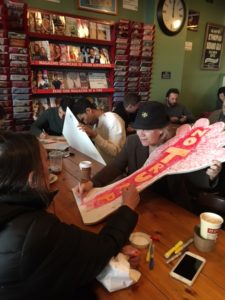 These are the scenes from the cafe inside and up along 5th Avenue as I write this.
It is hard to convey but watching everyone in peaceful protest: holding placards, shouting and chanting together is quite an emotional experience. This is not just today but all week.
So there are many ways of coping with the shock, sadness and anger. Samantha Bee helps us to laugh rather than cry (https://www.youtube.com/watch?v=s1SaD-gSZO4).  Another way is to devise theories and work out how we got here. How did this happen?!
If you will, allow me the following stream of thought.  The need to make a logical connection could lead us to say: Economic crisis = struggle = blame = ripe climate for inciting bigotry = electorate make bad choices.
Let's go back to the economic crisis.  Why did that happen? It's complicated but it started with the bankers.  People were rich and wanted to get richer.  Hence layer upon layer of hot air and exploitation of dreams leading to sub-prime lending. The story has similarities in the US and the UK.  It led to an absolute implosion in the system.  I am puzzled about what prevented us seeing this coming.  It seems we were all excited by the bubble.
Why the need to get richer and richer beyond all rationale? Wealth gives us ultimate power and independence.  It's a good feeling: 'I don't need to depend on others, on relationships, on community, I can do anything with money'. This need for supreme independence (over and above all other needs) would be an 'Avoidant' personality trait.  So you see where I am heading as a parent infant psychologist with this?
Going back to infancy.  As a tiny baby, when our attachment strategies are forming, this is when we could learn that in order to survive, we must inhibit out vulnerable emotions, look after ourselves, be as independent as possible.  Such early formation means these are our deepest instincts.  It's about staying alive.  Let's get this clear I am not saying all bankers had a traumatic babyhood.  Just trying understand why greed superseded common sense.  We are all a little bit responsible.
The next stage in our demise, is coined very well by Mike Baum (played by Steve Carell) in the movie, 'The Big Short'.  In despair he says: 'In a few years people will do what they always do and blame the economic crisis on immigrants and the poor'. Never has that line been more true than 2016's disastrous voting outcomes of Brexit and Trump.
The final step in trying to make logical sense of it is to ask: how were so many people in the red states of America putting all the blame for problems onto immigrants and others?  They were encouraged by somebody, yes - but only because they felt vulnerable, angry, not considered, not heard.  These are quite infantile states.  A psychoanalyst would explain 'splitting and projection' with more finesse, but I will try my best.  Splitting off the negative from ourselves and projecting it onto others, saying they are the ones with the problem, begins in babyhood.  The splitting of our carer figure into 'all bad' or 'all good' is an 'early primitive defence mechanism' (a way of dealing with being overwhelmed).  As we are just tiny we can't understand or cope with the idea that the carer who meets our needs (it's called the good breast to credit Klein) is the same one we are furious with (bad breast) when they don't get it right (as no parents get it right 100% of the time).  To cope, we temporarily believe as if they are two different people.  The theory is that adequate loving care allows us to integrate bad/less satisfactory bits and good bits so that we are able to tolerate that there is both 'good' and 'bad' in all of us.  If we stay with the primitive mechanism due to inappropriate caregiving and without being helped to mature, we are in danger of using splitting as a defence against our vulnerability in later life. For example idealising ourselves, and putting all the negative onto the 'other'.  Does this make sense? Please say if not and I can explain some more.
So could infant mental health have saved us?  Well, obviously this is a generalisation and I am incredibly biased but...YES.  Infant mental health with some of the 'privileged' who struggled so hard to get their needs met as babies and grew up to became hardened and money grabbing.  Infant mental health with the 'underprivileged' who struggled to get their needs met as babies and became ripe for reliance on racism, sexism or homophobia to make sense of their world.
OF COURSE, I am the first to admit this is over simplistic, and perhaps a little bit (okay maybe a tiny bit!) skewed towards my own particular area of work.  But remember that we have now established both through neuroscience and research (replicated and longitudinal) that attachment is the foundation for social and emotional mental health.  Like the foundations of a house, this needs to be solid, secure and safe.  The Center on the Developing Child at Harvard explains this well (https://www.youtube.com/watch?v=VNNsN9IJkws ).
As always I am very curious, what do you think?  Please don't hesitate or be shy to give me your opinion.  Post a response.